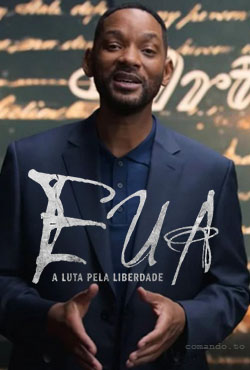 »INFORMAÇŐES«
Título Traduzido: EUA: A Luta pela Liberdade 1ª Temporada Torrent
Título Original: Amend: The Fight for America
IMDb: 4.5/10
Nota TMDB: 40%
Ano de Lançamento: 2021
Gênero: Documentário
Formato: MP4
Qualidade: WEB-DL 1080p
Áudio: Português
Legenda: S/ L.
Tamanho: 6.8 GB
Qualidade de Áudio e Vídeo: 10
Duração: 55 Min./ Ep.
Servidor: Torrent
SINOPSE: When the United States of America was founded, the ideals of freedom and equality did not apply to all people. These are the stories of the brave Americans who fought to right the nation's wrongs and enshrine the values we hold most dear into the Constitution — with liberty and justice for all.
EUA: A Luta pela Liberdade 1ª Temporada Torrent (2021) Dublado / Dual Áudio WEB-DL 720p | 1080p FULL HD – Download

[ Assista o Trailer: YouTube ]
Caso haja algum problema de reproduçăo: K-Lite-Codec-Pack
:: DUBLADO ::
1ª Temporada Completa 1080p Dublado 5.1 | 6.8 GB

[ LEG ] [ LEG ] [ LEG ] [ LEG ] [ LEG ] [ LEG ] [ LEG ] [ LEG ] [ LEG ]
EUA: A Luta pela Liberdade 1ª Temporada Torrent (2021) Dublado / Dual Áudio WEB-DL 720p | 1080p FULL HD – Download